Online Psychic Readings
I have a selection of services designed to assist you to gain the kind of clarity that comes from the beyond. I have an uncanny ability to see the invisible influences in your life whether you live right around the corner or across the world.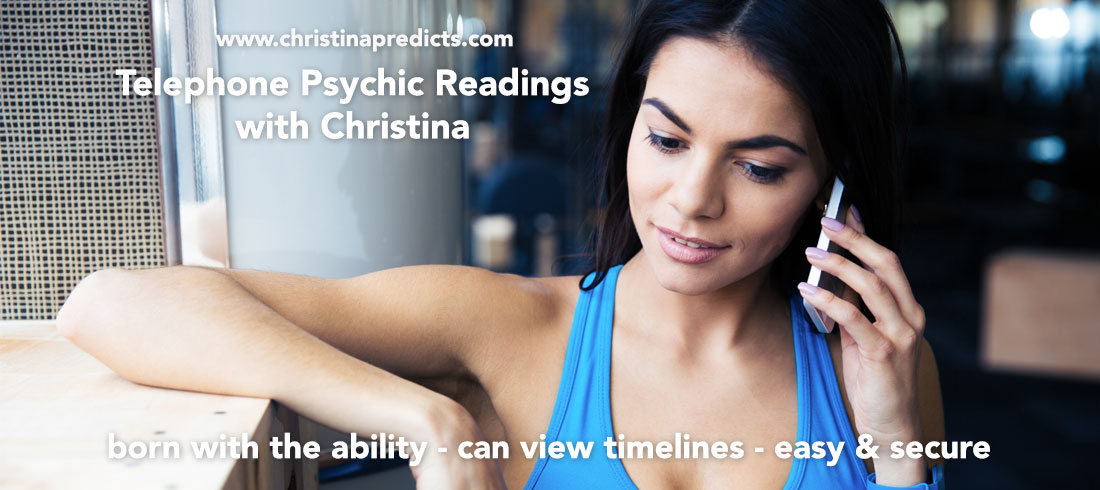 Accurate Psychic Readings
After you make an appointment, you telephone me at our appointed time for your reading.  During the reading you can ask questions specific to your situation which I will answer to help you get clear on the best course of action for you.  Psychic medium readings are either 1 hour (more in-depth, more questions answered) or 30 minutes for a psychic reading.
Following is a list of just some of the ways I can help you gain the clarity you seek. If you have questions about which reading would be perfect for you, please feel free to contact me.
Psychic Reading:
Sometimes we just keep moving without knowing whether our actions are in-line with our life purpose or not. We all look for the validation of our struggles. Online psychic readings help you in knowing what the future holds for you. You get the validation of the choices you have made in life. We meet by phone and the messages about your past, present and future come pouring into me from the beyond. You may ask questions or get a general reading. I can help you with discovering your creative potential and can show you new paths to embrace.

$200 for a 1-hour consultation
$100 for 30 minute consultation
"I have read with Christina for over 10 years. I am blown away at her accuracy."
Medical Medium Reading:
A medical intuitive reading starts with a full body scan of your physical, emotional and spiritual sides, looking for any imbalances. This process reveals the answers to what your body/being needs to do to get back into balance and begin the journey to health. Sometimes the imbalances are the result of the emotional trauma. A medical intuitive reading helps you in identifying the root cause of the problem. Since I am a medical medium, I can help you with finding the reasons for blockages. Expect to receive the correct guidance from me that helps in the overall healing process.

$200 for a 1-hour consultation
"I have been trying for over 5 years to get pregnant and nothing has worked. I took her advice, booked a series of sessions and I am due next month for my second child."
Quantum Energy Scan & Healing:
A scan that shows where you are blocked, what is causing the blocks, and what you need to do to change it. This reading includes a healing that helps to alleviate the negative and blocked energy that is around you.

$200 for a 1-hour consultation
"I came to Christina for help with a problem that was constantly happening in my love life. My reationships and friendships transformed. I am a client of 3 years. I would recommend her 100%!"
Past Life Regression:
In these readings we delve into your Akashic Records to discover patterns and blocks that come from your past lives.  The purpose of this reading is to find your life-lesson and to break repeating patterns. We will also explore your past lives to discover your soul's true purpose.

$200 for a 1-hour consultation
"Two years later I am happily married to my twin flame. At the time that was not what I wanted to hear. I am glad that I continued to do readings with you."
Astrology Reading:
An in-depth reading about your life based on the date, time and place of your birth. You can get detailed questions about events, situations, people and other forces in your life.

$200 for a 1-hour consultation
$100 for 30 minute consultation
There were times when I doubted but she stuck to her guns and sure enough what she predicted came true. I appreciate your patience with me. You are my go to girl. Thank you!
Psychic Pet Reading:
A psychic reading that can help connect with your pets, find out what's going on with them physically and emotionally, what their role is in your life and your role in theirs, and the messages your pets have for you. This can clarify for you what to do to help your pets thrive.

$200 for a 1-hour consultation
$100 for 30 minute consultation
"My dog couldn't sleep. Thanks to Christina's insights and advice he's settled peacefully! Thank you!"
Online Angel Reading:
A reading that allows you to connect with your angels and spirit guides. You'll also discover who they are and why they are here. Angels can help you with your life purpose and can answer difficult questions about the issues you are facing. Online angel reading gives you the clarity you seek to have; it helps you in getting aware of your full potential. The guidance conveyed by the angels boosts your confidence, and you get the peace of mind, knowing that angels are there to guide you.

$200 for a 1-hour consultation
$100 for 30 minute consultation
"I discovered I have the mark of Archangel Michael. I always knew I had this deep connection. Christina confirmed it! Thank you."
EFT  
(Emotional Freedom Technique):
This type of therapy helps to instantly change the patterns that are causing conflict and disharmony in your life.

$200 for a 1-hour consultation
"I couldn't get over my past boyfriend. I was able to release the anger and let go after just one session with Christina!"
Medium Readings
The connection never breaks! Even when your loved ones depart from the world, the bond never breaks. A psychic medium reading lets you connect with your loved ones. You get the messages from them and can convey your messages too. As a medium I can connect with both; crossed over and earthbound spirits. During the session, it is essential to keep skepticism in the far-flung land so that there are no hurdles in the energy flow.
30 Minute Reading – $100

1 Hour Reading – $200

---
The biggest shocker in this was that she told me what to do to get pregnant. I have been trying for over 5 years and nothing has worked. I took her advice, booked a series of sessions and I am due next month for my second child. She has helped me to erase Hashimoto's disease. This is an autoimmune disease that is, told by the medical industry, incurable. I still go back to my endocrinologist every six months to recheck my blood work. There are no TPO antibodies and my thyroid panel is normal. I am convinced that my brother sent her to me. ~ Jessa R. Paramus, NJ

---